Stem Mate®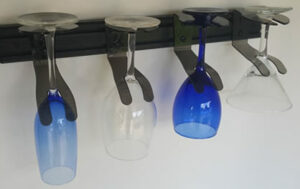 The Stem Mate® stemware holder is the only wine glass holder to securely hold stemware while being transported. It actually "cradles" stemware in all directions. They can be used in motorhomes, campers, aircraft, and limousines. Constructed of a durable polymer, the Stem Mate® is also UV resistant and can be used on boats and pontoons. A variety of shapes and sizes of stemware can be held. Wine, martini, champagne, and margarita glasses work well.
Stem Mate® Available in Three Colors
The Stem Mate® is available in three colors: Smoke, Pink, and Black.
Patent D809,871 & Patent 10,342,370